Regular price

Sale price

$42.00
If you have sensitive skin and are prone to acne, then look no further as this is the holy grail when it comes to clean and healthy skin. Kleen Slate is fragrance free, has not been tested on animals and does not cause ANY hormonal disruption whatsoever.
Meet The Cleanser

• Fights dryness and restores hydration in your skin

• Provides a thorough, gentle deep cleanse

• Improves skin barrier function

• Provides protection against skin irritants

• Made for all skin types
Details

Kleen Slate doesn't leave the skin feeling tight and dry at all after use thanks to the hydrating effects from marula oil.

This cleanser is great for all skin types as it even nourishes dry skin with the help of glycerin, aloe and melon extract.

• Fragrance free

• Paraben free

• Sulfate free

• Cruelty free
How To Apply

Wet face with warm water. Lather a small amount of cleanser in hands and massage onto face in a circular motion. Rinse thoroughly with warm water. For best results, use twice daily. Follow with a toner and/or a moisturizer.

Precautions:

• Avoid contact with eyes as it can cause irritation

• If irritation persists, discontinue use
Ingredients

Water, Glycerin, Cocamidopropyl Betaine, Coco-Glucoside, Sodium Lauroyl Methyl Isethionate, Cocamidopropyl Hydroxysultaine, Sodium Methyl Oleoyl Taurate, Propanediol, Aloe Barbadensis Leaf Extract, Glycolipids, Linoleic Acid, Linolenic Acid, Lauryl Glucoside, Cucumis Melo Cantalupensis Fruit Extract, Sclerocarya birrea Seed Oil, Dipotassium Glycyrrhizate, Tocopherol, Citric Acid, Sodium Hydroxide, Sodium Benzoate, Sodium Chloride, Polylysine, Ethylhexylglycerin
Share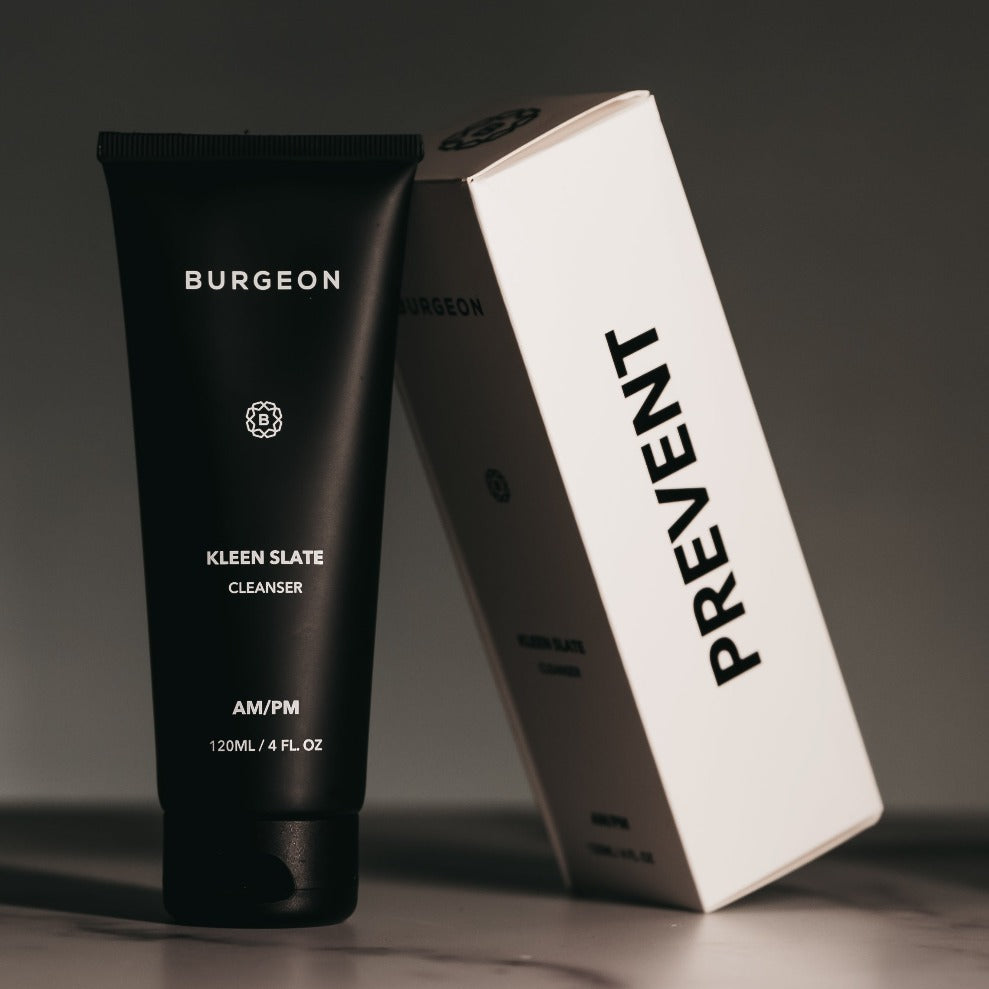 Kleen Powerhouse
Melon fruit extract is very rich in vitamin A, which helps increase the rate your skin forms new skin cells, and can also help with issues like scar tissue and or stretch marks.
In addition to vitamin A, it contains antioxidants that can help fight inflammation, signs of aging, and fine lines and wrinkles.
Melon extract contains proteins that can help smooth and tone the skin, while decreasing the appearance of your pores. Something that many men struggle with around the nose area.
If you have sensitive or easily irritated skin, Melon extract also has natural anti-inflammatory properties than can soothe and calm your skin.
Marula oil is very high in critical antioxidants and omega 6 & 9, that all together nourishes your skin while providing the maximum cleansing power available.
FAQs
How often should I use Kleen Slate?

It is recommended to use a cleanser like Kleen Slate twice a day, once in the morning and once at night. This will help to remove dirt, oil, and other impurities from your skin, leaving it clean and refreshed. However, depending on your skin type and other factors, you may need to adjust how often you use a cleanser. For example, if you have dry or sensitive skin, you may only need to use a gentle cleanser once a day, while if you have oily skin, you may need to use a cleanser more frequently. It's important to listen to your skin and adjust your cleansing routine as needed.
What makes Kleen Slate pH balanced?

Kleen Slate is pH balanced due to the presence of several key ingredients in the formulation. The pH of the product is close to that of the skin's natural pH, which is slightly acidic and falls within the range of 4.5 to 5.5. This is important because the skin's pH affects its ability to function properly, including its ability to maintain its natural moisture barrier, protect against environmental stressors, and ward off harmful bacteria.

One of the key ingredients in Kleen Slate that helps to maintain its pH balance is citric acid. Citric acid is a natural alpha-hydroxy acid that helps to exfoliate the skin, promote cell turnover, and balance the skin's pH. Other ingredients such as Sodium Hydroxide and Sodium Benzoate may also contribute to the pH balance of the product. By keeping the pH of Kleen Slate in the appropriate range, it helps to support the health and function of the skin.
Should I use a toner after using Kleen Slate?

Whether or not you should use a toner after using Kleen Slate depends on your personal skincare routine and the needs of your skin. Some people find that using a toner can help to further remove any remaining dirt or impurities, as well as restore the skin's natural pH balance. Toners can also help to prep the skin for the next steps in your skincare routine, such as applying a moisturizer or serum.

However, if you have particularly sensitive or dry skin, using a toner may not be necessary or may even cause irritation. It's always a good idea to do a patch test first and start slowly when incorporating new products into your routine.

Ultimately, the decision of whether or not to use a toner after using Kleen Slate is up to you and your personal skincare needs.
Is Kleen Slate non-comodogenic?

Yes, it is very unlikely to cause comedones or clog pores as it does not contain any known comedogenic ingredients.

However, it is important to note that everyone's skin is different, and what may be non-comedogenic for one person may not be for another.

If you have concerns about the comedogenicity of Kleen Slate, it is best to consult with a dermatologist or perform a patch test on a small area of your skin before using the product all over your face.
Surpassed my expectations...
I must say I was skeptical about the Kleen Slate cleanser, but I have to admit, it exceeded my expectations. It's gentle on my skin, but it still removes all the impurities. It doesn't leave anything behind. My skin feels clean and refreshed after using it, both morning and night. I highly recommend it to anyone looking for a premium cleanser at an affordable price point! I also recommend Hydra Peptide, an amazing combination!
New Fav for sure
I used to think that all cleansers were the same, but KS cleanser has proven me wrong. It's gentle on my skin, but it still removes all the oil. And no hormone disruption, come on! I'm impressed!
A gentle cleanser that actually works
I have dry skin, so I'm always nervous to try new cleansers that might make my skin even drier. But the Kleen Slate cleanser is so gentle and hydrating, it leaves my skin feeling soft and supple. Plus, it doesn't leave any sticky residue behind. This is a great product, the others I've tried also fyi. Hydra + Full Circle + Bleuminate
The perfect cleanser for MEN
No hormone disruption, sign me up! I'm always on the lookout for products that are specifically designed for men, and Kleen Slate definitely fits the bill. It's so easy to use and makes my skin feel clean and refreshed. Plus, it doesn't have any strong scents or gimmicky packaging. I love it!
The Only Cleanser I'll Use
I've tried so many different cleansers over the years, but Kleen Slate is the only one that works for my oily skin. It's so gentle on my skin, but it still removes all the dirt and oil. Plus, it's affordable and lasts a long time.